DROP IN FROM THE CLOUD
The wait is over - gamers can now experience Fortnite on supported iOS Safari and Android devices with new touch controls on GeForce NOW Powered by Pentanet. Jump in and start playing right away with just the screen and your fingers, no gamepad or keyboard/mouse are needed.
Build, battle, and dance your way to a Victory Royale with the power of high-performance GeForce GPUs, streaming right to your mobile devices from the cloud.
ENTER THE ARENA
Not a member? No problem. All are welcome to experience Fortnite streaming on mobile with a free GeForce NOW Powered by Pentanet Trial membership. Or, check out our paid GeForce NOW Powered by Pentanet membership plans for an enhanced experience.
Ready to chase your next Victory Royale? Drop in.
FORTNITE MOBILE FAQ
Android:
Download the NVIDIA GeForce NOW app from the Google Play store.
iOS Safari:
Open Safari on your iPhone or iPad, then head to play.geforcenow.com and follow the instructions to create a home screen shortcut.
When using the GeForce NOW Powered by Pentanet Android app, Fortnite runs in PC performance mode to optimize streaming quality on phones. This mode allows for a significantly smoother gameplay experience, and the ability to maintain higher frame rates.
Fortnite: Save the World is unavailable when playing in PC Performance mode, but Fortnite Creative mode can be accessed by pressing 'Select Game Mode' in the Menu.
Epic Account linking enables single sign-on for Fortnite, which lets you play the game without having to log in to your Epic Games Account every time you launch a new Fortnite session on GeForce NOW Powered by Pentanet.
To link your Epic Games Account, open the GeForce NOW app and link your account in Settings.
Nothing! You'll be able to continue playing with touch controls the same as during the beta period. Look for a special thank you offer for joining the closed beta in your email.
CLOUD GAMING ON ALL YOUR DEVICES
GeForce NOW Powered by Pentanet is NVIDIA's cloud-based streaming service, delivering gameplay straight from the cloud to any laptop, desktop, Mac, SHIELD TV, iPhone, iPad, and Android device. Connect to your store accounts and stream your own library of PC games from stores like STEAM, Epic Games, GOG.COM, Ubisoft Connect, and more, or play your favourite Free-to-Play games.
Upgrade to a paid GeForce NOW Powered by Pentanet membership plan to enjoy shorter wait times and longer game sessions. And, every Friday - our dedicated day for highlighting the newest games, features and news - new games are added to our streaming library. Get in. Game on.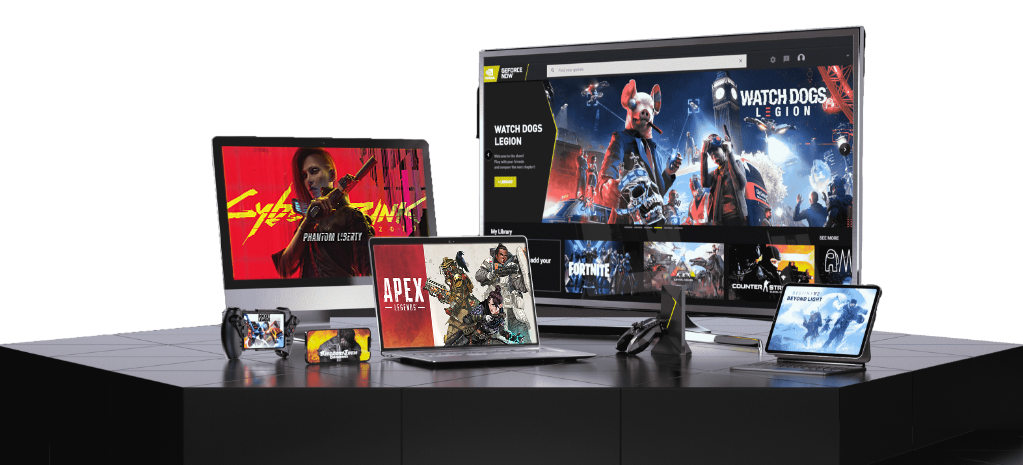 FOR AUSSIE GAMERS.
BY AUSSIE GAMERS.
GeForce NOW Australia is proudly powered by Pentanet. Born from three gamers' frustration with below average internet speeds, Pentanet has privately built Perth's largest and fastest growing fixed wireless network.