ULTRA POWERFUL

4K CLOUD GAMING
Ultra membership smashes through the 60fps barrier to stream a high-resolution, low-latency experience. With exclusive access to RTX 3080 gaming servers, ultrawide monitor support, and the longest session lengths, Ultra membership takes cloud gaming to the next level.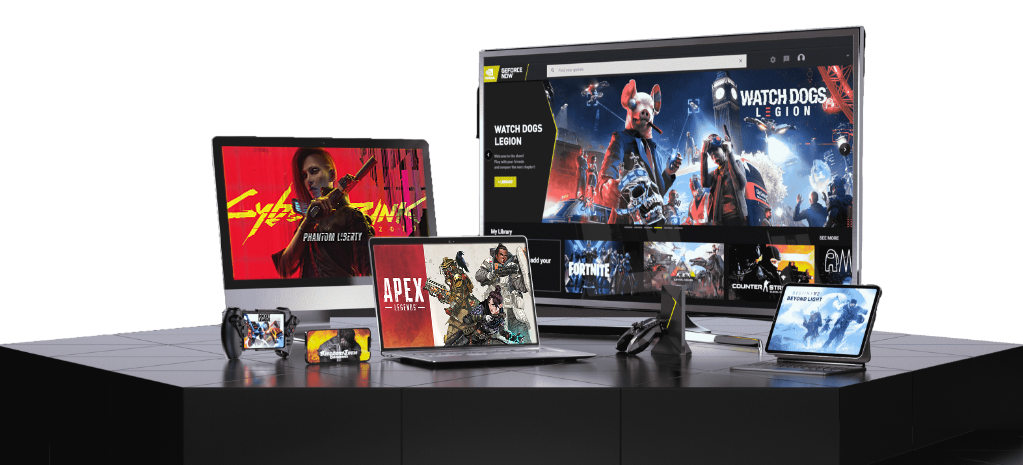 Tap into
Fortnite
Play Fortnite on iOS and Android devices with new touch controls on GeForce NOW Powered by CloudGG.
Build, battle, and dance your way to a Victory Royale with the power of high-performance GeForce GPUs, streaming right to your mobile devices from the cloud.
Ready to chase your next Victory Royale? Drop in.
1500+ Supported GamesReady to Play!
GeForce NOW connects to your existing PC game libraries. Stream supported games from your Steam or Epic Games libraries anytime, anywhere. You'll never need to download, update, or patch your favourite games again—everything is handled in the cloud.
View Games List
POWERFUL PC GAMING
ON ALL YOUR DEVICES
GeForce NOW instantly transforms nearly any laptop, desktop, Mac, SHIELD TV, Android device, iPhone, or iPad into the premium PC gaming rig of your dreams. Play the most demanding PC games seamlessly across any of your supported devices.
Windows PC
Desktop and Laptop
Mac OS
iMac, Macbook and Mac Pro
Android TV
Chromecast with Google TV, Sony TV and more
Android
Phone and Tablet
Chrome Browser
Chromebook, PC and Mac
Safari Web Browser
iPhone and iPad
Membership Plans
Sign Up Now
Sign up to unleash the full power of GeForce NOW Powered by CloudGG.
We have a range of plans to suit your gaming needs, Sign Up NOW to choose a plan.