Tap into
Fortnite
Play Fortnite on iOS and Android devices with new touch controls on GeForce NOW Powered by Pentanet.
Build, battle, and dance your way to a Victory Royale with the power of high-performance GeForce GPUs, streaming right to your mobile devices from the cloud.
Ready to chase your next Victory Royale? Drop in.
More Power.
More Play.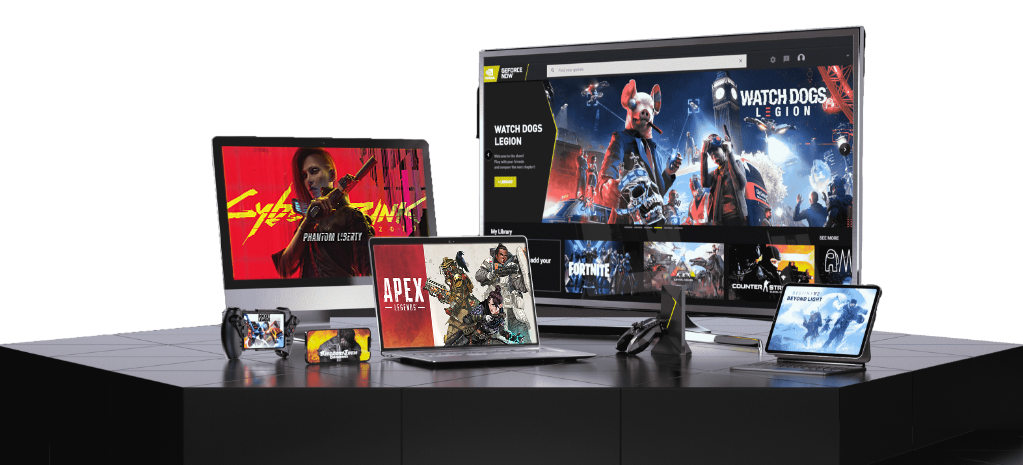 1000+ Games, Ready to Play!No Installs Needed
GeForce NOW is a 'bring your own games' platform. Connect GeForce NOW to your existing PC game libraries to stream supported games from Steam, Epic Games, Ubisoft Connect, GOG, and Origin anytime, anywhere. You'll never need to download, update, or patch your favourite games again — everything is handled in the cloud.
View Games List
Game Creatively On
All Your Devices
GeForce NOW instantly transforms nearly any laptop, desktop, Mac, SHIELD TV, Android device, iPhone, or iPad into the premium PC gaming rig of your dreams. Play the most demanding PC games seamlessly across any of your supported devices.
Windows PC
Desktop and Laptop
Mac OS
iMac, Macbook and Mac Pro
Android TV
Chromecast with Google TV, Sony TV and more
Android
Phone and Tablet
Chrome Browser
Chromebook, PC and Mac
Safari Web Browser
iPhone and iPad
Secure Your Founders Price
Limited Time Only
Sign up now to secure your limited time Founders Price to GeForce NOW Powered by Pentanet. Founders are guaranteed their special Founders Price for the full lifetime of their subscription.
Basic
For those wanting to try a limited version of the service before upgrading.
View All Features
Basic Access
Join the queue and get connected to the next available Game Server. Wait times may increase during peak hours.
Limited Session Time
Try GeForce NOW on all of your devices with unlimited 1-hour Play Sessions. Players must re-queue between Play Sessions.
NVIDIA RTX Technologies Disabled
Upgrade to a Priority subscription to take advantage of NVIDIA's RTX platform, including dedicated RT Cores for ray tracing and Tensor Cores for AI that greatly improve the graphical performance of supported games.
Priority
For users who want to experience the true power of GeForce NOW. Includes Priority Access to game servers, Increased Session Times, and NVIDIA RTX Technologies enabled.
View All Features
Priority Access
Skip the queue and game in the fast lane with Priority Access to Game Servers.
Increased Session Times
Game uninterrupted with unlimited 4-hour Play Sessions — increased from the 1-hour Play Sessions available to those with Basic subscriptions.
NVIDIA RTX Technologies Enabled
NVIDIA's RTX platform includes dedicated RT Cores for ray tracing and Tensor Cores for AI that enable groundbreaking graphical technologies at breakthrough speeds. Experience today's biggest blockbusters like never before with RTX turned On.
FOR AUSSIE GAMERS.
BY AUSSIE GAMERS.
GeForce NOW Australia is proudly powered by Pentanet. Born from three gamers' frustration with below average internet speeds, Pentanet has privately built Perth's largest and fastest growing fixed wireless network.